For who we are named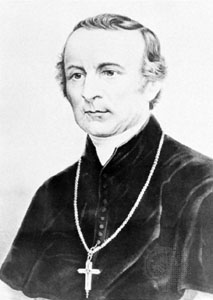 Archbishop John Joseph Hughes (1787-1864)
Born in Annaloghan, County Tyrone, Ireland. He immigrated to the United States in 1817 following his father Patrick Hughes. Working in quarries, mending roads and as a gardener in Chambersburg, PA. After several unsuccessful applications for admission to Mount Saint Mary's Seminary in Emmitsburg, Maryland, young Hughes was given a job as seminary gardener until a vacancy came open.
After ordination, Father John Hughes served in a number of churches in Philadelphia and gradually emerged as a leader and fighter. He attracted attention by his controversial writings and speeches. At a time when many Catholics thought it best to suffer the bitter anti-Catholicism of the day in silence, Father Hughes believed in outspoken vigorous defense. He used controversy to make the critics of Catholicism more cautious and to give a much needed morale boost to Catholics.
He was a man of deep convictions. He consistently opposed any suggestion that Catholicism was an obstacle to civil and religious liberty and vigorously defended the basic harmony between Catholicism and American political institutions. He felt it his duty to prove that American Catholics were in sense second-class citizens.
He was the fourth Bishop of New York City and it's first Archbishop. His works included the founding of Fordham University, the current St. Patrick's Cathedral, the paper's Freeman's Journal and Catholic Herald, the Immigrant Bank for new Irish and Catholic's in New York and the formation of the Catholic parochial school system in America.
He publicly defended the Church during the "Know –Nothing" movement of 1800's and was President Abraham Lincoln's personal agent to France-Rome and Ireland during the Civil War.
An example of Archbishops courage and defense of Church is seen in the anti-catholic riots in Philadelphia in which "know-nothing" followers had burned churches, schools, and assaulted priests and catholic.
Archbishop Hughes called surrounded the churches of New York City with a contingent of one to two thousand Irishman, members of the Ancient Order of Hibernians ALL. To the anti-catholic mayor of New York James Harper the admonition "that if one Catholic Church in New York is attacked or burned, the city would become a second Moscow" Not a church was touched.
Archbishop Hughes passed away in 1864 after a long illness and is currently buried in St. Patrick's Cathedral New York City.
As Archbishop Hughes praised the men of the AOH " who feel no consciousness of inferiority to any portion of their fellow citizens, but who are, in every sense of the word thoroughly American." We honor his name and spirit with the naming of our division in his honor.
The first Washington division of the Ancient Order of Hiberniansin America, was organized in 1890 in Tacoma. In 1900 Washington sent it's first delegate, a member of Spokane's Division No.1 to a national
convention, and during that period of time the state had six divisions with a membership of approximately 200. In 1904, the national Hibernian organizer, stated that Spokane was the bright spot of Washington with
several divisions in good order. Two other towns had AOH units, one in Bellingham Whatcom, county and Tacoma where again a few individuals kept the division going. The Ancient Order of Hibernians with the
Ladies Ancient Order of Hibernians was active in Seattle until the 1950's. Seattle had four divisions. There was also divisions of the Ladies Ancient Order of Hibernians throughout the state. Meetings were
held the First Monday and the third Sunday of each month at the Hibernian Hall at the corner of 9th and Yessler Way. During the St. Patrick's Day event held by the Seattle Divisions of the Ancient Order of Hibernians, members along with City of Seattle Officials and the Seattle Chamber of Commerce celbrated the day and the Golden Jubilee of Washington State. The event was entertained by the Glee Club of Seattle College (now Seattle University). In an article from the Seattle Times of March 1939, it announced the AOH's St. Patrick's day event along with a listing of new officers. These were, Michael McDonough-vice-president; Leo McCulloch, secretary; Jmaes L. Dougherty Jr, treasurer; Joseph Wall, sergeant at arms and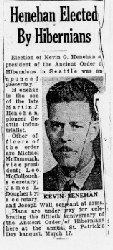 Kevin G. Henehan as Prseident. (above photo)
Mr. Henehan lead a distinguished career during his lifetime. First as plant superindendent of the Seattle Frog & Switch Company, Pacific NW Manager of de Frenery & Co. Investment Firm, Claim agent King County King County District Attorney Ofice, Senior Examiner King County Auditors Office. He was also the campaign manager for future Govenor Warren Magnuson in his 1934 for district attorney.

Mr. Henehan himslf (photo above)
was State Senator for the 37th district 1943 to 1947.
Thus the Ancient Order of Hibernians held a long heritage in the Irish community of Seattle and Washington from the late 1800s until somewhere
around the 1940s or late 1950s. From a meeting at a local pub a few individuals gathered and from there
to October 23 1998 when the Seattle Division was reborn.
From the National Historian of the AOH are documents concerning state, county and division officers are from 1905 to 1910. These were sent to the national board of the AOH during that era.Below are the names and
address of those individuals.
AOH King County
J.L. Fitzpatrick, Pioneer Bldg. Seattle
William Curtin, 1123 Franklin Ave. Seattle
Michael Harrington 1109 Washington St. Seattle
John Keenan Seattle
Rev. J.E. O'Brien, Seattle
Richard Slattery 506 21st Ave. Seattle
Edward Doran, 2016 Dearborn St. Seattle
Michael O'Hara, 826 20th Ave. Seattle
Michael Harrington, 1100 Washington Ave. Seattle
Jerry Barry, Bishop Court Seattle
John J. Doran 2016 Dearborn St. Seattle
John Rea Seattle
L.M. Gaffney 945 Tacoma Ave. Tacoma
Thomas Gorman 610 23rd St. Tacoma
Jerry O'Connor 1623 So. J. St. Tacoma
John J. Hopkins 2923 N. 30th St. Tacoma
William Walsh 1130 E. 28th St. Tacoma
James Martin 382 Chase Ave. Walla Walla
W.D. Gleason 626 S. Anderson St. Tacoma
P. Fitzpatrick 923 E. Marion St. Seattle
Thomas Golden RFD 2 Vancouver
Frank Day RFD 1 Camas
Terrence Nolan RFD 2 Vancouver
Martin Farrell R.F. D. 2 Camas
Michael O'Hara 1510 Sanders Pl. Seattle
James Clynch 905 4th Ave. N. Seattle
J.J. Wood 10071/2 Main St. Seattle
Chas. Gallagher 947 23rd Ave.S.Seattle
John J. Hayes 1315 5th Ave. Seattle
James Boyle 1312 7th Ave. Seattle
John McGuire 1623 Bellevue Ave. Seattle
John Coffey Rainer Club Seattle
Andrew Donohue 1315 6th Ave. Seattle
P.B. Kearney Spokane
Jeremiah O'Connor 1623 J St. Tacoma
A.A. Collins 1407 First Ave. Seattle
Father O'Brien Church of our Lady of Good Help Seattle
E.J. Flaherty 1519 College Ave. Spokane
Bishop O'Dea Terry Ave. Seattle
Ladies AOH
Mary A. Cummings 415 10th Ave. Seattle
Jane E. Kuepferle Cor.Yessler and 28th Ave. Seattle
Margaret Cleary 2719 Pine St. Everett
Katherine Hays 727 Catherine St. Walla Walla
Miss Teresa McHoney 1215 3rd Ave. Seattle
Miss Margaret Dunn 1626 7th Ave. Seattle
Mrs. Celia Hunt 1213 E.Alder St. Seattle
Mrs. Catherine McArdle 412 8th Ave.S. Seattle
Miss Kittie Lloyd 3105 S. K. St. Tacoma
Mrs. Anna Schilling 6208 S. Alder St. Tacoma
Mrs. Carolina O'Leary 10141/3 Tacoma Ave Tacoma
Mrs. Agnes Dockery 2931 Maple St. Everett